(photo of PPG Place by Derek Jensen, above)
My favorite part of the Pittsburgh skyline (and the favorite of many) is the beautiful complex
PPG Place
, made up of six buildings within three blocks. You can read about its unique architecture on its web site:
http://www.ppgplace.com/building
Before I got around to learning this was called PPG Place, I just called it The Glass Castle.
PPG is most beautiful around the holidays, when a giant Christmas tree is raised in the center of a seasonal skating rink in the outdoor plaza. Above is a lovely photo of PPG during the kick-off to the holiday season on Light Up Night (from PPG's web site).
The other day on my lunch hour, I walked through the plaza and took great delight in the wonderful display of gingerbread houses made by Pittsburgh children that filled numerous display windows within the plaza. Created by students, brownie troops, and many other groups of creative children, the display is created to encourage donations for Pittsburgh Children's Hospital's Free Care Program. The display continues in PPG's beautiful Wintergardens, where the houses create a large, snowy, gingerbread village with trains zipping through, surrounding a Christmas tree. I took some photos of some of my favorites...
Gingerbread and candy carousel (above)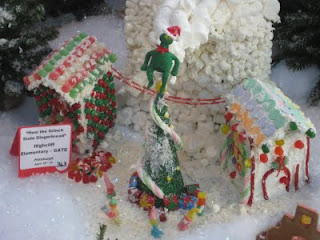 The Grinch (above)
(Hogwarts, above. I love the tree eating the car in the yard!)
Check out the lights of PNC Park (above). Nice.
The White House (above)